Reading Time: 7 minutes
You probably know Miami as the ultimate nightlife destination, with endless parties and all kinds of activities. However, have you ever heard anyone refer to it as the "Wreckreational Diving Capital"? Thanks to the numerous reefs and sunken wrecks found in the waters surrounding the city, spearfishing in Miami is some of the best you'll find on the East Coast.
Add to this the different reefs and other underwater structures, and you'll quickly realize that there's no shortage of fish holes around these parts. Also, the species you'll get the chance to encounter are thrillingly diverse. From various reef dwellers to some of the most challenging pelagics a spearo can come across, they're all in the cards.
If you'd like to find out exactly which species you'll see while spearfishing in these waters, stick with us. Will present some of the most popular catches around, as well as provide an overview of what it's like to dive around these parts, and where to go. Let's get into it!
What does spearfishing in Miami look like?
The whole stretch of Florida's East Coast, from Daytona Beach down to Biscayne Bay and the Keys, is a spearfishing treasure trove. If you head out of Miami Beach, you'll get to explore several shallow-water reefs within the sight of the coast. These make for great spearfishing spots when the currents are too strong to go offshore.
Further north from the city, the Haulover area offers a fantastic range of dive sites. You'll find numerous reefs at depths ranging from 20 to 30 feet, with some even plunging all the way to 60. These provide a home to both fish and crustaceans, with no shortage of either.
If you turn south instead, though, Key Biscayne and the surrounding waters also feature plenty of diving spots. However, spearfishing beyond the Miami-Dade county line and all the way down to Long Key is prohibited, so make sure to keep that in mind. Of course, this only applies to state waters. Venturing out into the ocean and exploring the deeper waters is always an option.
What we're really trying to say is that Miami offers a bit of something for everybody. For novice spearos, there are plenty of shallow spots close to shore where one can sharpen their skills. On the other hand, intermediate and expert divers can hit deeper waters further offshore and hunt for everything from reef fish to pelagics.
Which species can I catch spearfishing in Miami?
We've already mentioned that there's a whole variety of fish you can poke through while spearfishing in Miami. Of course, what you'll find depends on the season, the depth you dive in, and how far offshore you go. Have a look at some of the most commonly targeted species in this part of Florida.
Snapper
If there's a type of fish the local spearos just love to hunt for, it has to be Snapper. Naturally, there are more than one species of these fish that you'll come across. Yellowtail, Mutton, Mangrove, Dog Snapper, and a few other kinds are all on the menu in Miami.
Aside from Red Snapper, which are heavily regulated, you can generally hunt for all other Snapper species throughout the year. You'll see them around the various local reefs and wrecks, since these provide a place for them to hide.
As you can find them even around fairly shallow reefs, Snappers are great fish to target if you're a novice spearo. This being said, they can be rather challenging to shoot, as they can move quite quickly and unpredictably. You'll need a stealthy approach and a steady aim.
Grouper
Groupers often live around the same underwater structure as Snapper. There are many different types of these fish. However, the most common ones you'll see while spearfishing in Miami are Red and Black Grouper.
Both of these Grouper species make for absolutely amazing table fare. This being said, their season is typically closed from January through April each year. This means you'll have to plan your trip for late spring, summer, or fall if you want to hunt them.
As an added bonus, you'll often see massive Goliath Grouper lurking around Florida's reefs and wrecks. Although you can't spearfish for them, just seeing these gentle giants swim is an experience in itself. Goliaths are generally docile, though they may decide to snack on the other fish you shoot. Besides them, you also won't be able to spearfish for Nassau Grouper if you encounter them.
Hogfish
They're called Hogfish but they're really more reminiscent of some creature you'd see in Alien. Now whether their unique looks make them a more or a less desirable target for spear anglers, we'll let you decide. What's certain, though, is that Hogfish taste quite nice, which is often more than enough to make a fish popular.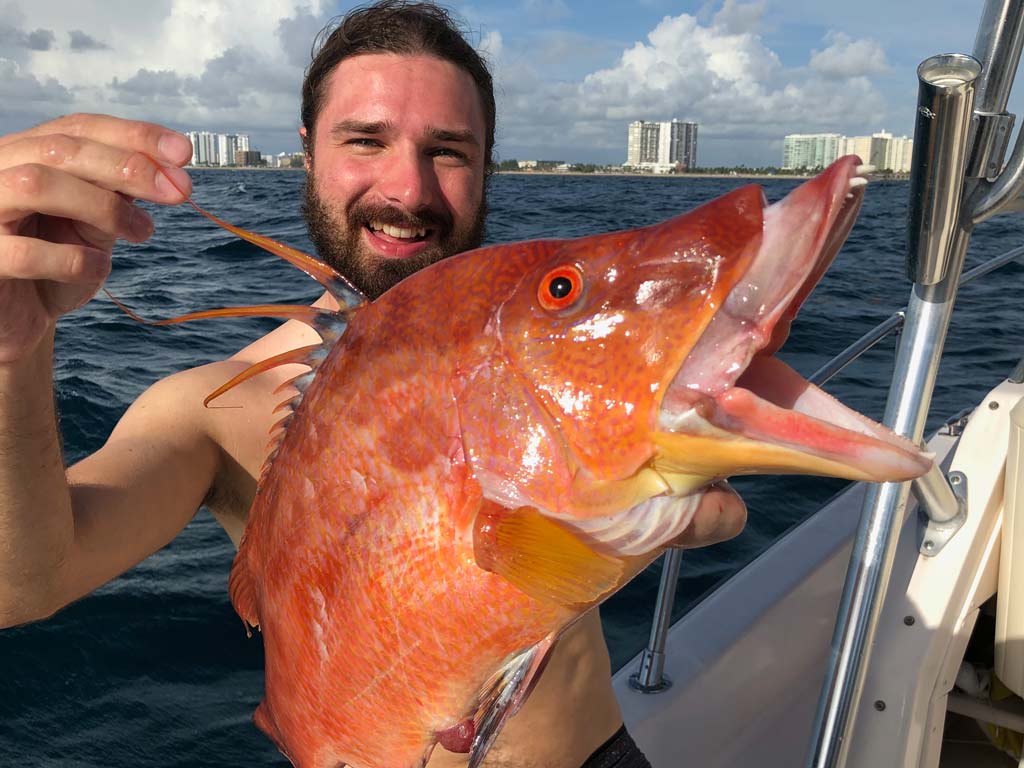 You can find Hogfish fairly close to shore, around underwater sand edges and reefs. They're not really praised for their intelligence, which is a character trait that makes them very suitable for novice spearos. And even though you can't target Hogfish year-round, their season is pretty long and usually lasts from May until the end of October.
Mahi Mahi
The species we named so far can all be found on the reefs and wrecks, without straying too far from the coast. However, spearfishing for Mahi Mahi is a whole different type of experience. They're one of the fastest-growing fish in the ocean and they can get seriously big, reaching weights upwards of 40 pounds.
You'll also need some experience as you'll be diving for Mahi Mahi in open waters. Luckily, when they're passing by Miami, you can often find them just a few miles offshore. Typically, you'll look for debris and floating grass which attract baitfish that Mahi feed on. Birds are another telltale sign. Find those and you'll usually find some fish near the surface.
And More!
Of course, you'll get the chance to see a whole range of other fish while spearfishing in Miami. Barracuda, for example, love to hide around structure, hunting the same type of prey you're going for. You'll also see King and Spanish Mackerel, as well as Triggerfish and Jack Crevalle prowling the reefs. Finally, these waters are known for their abundance of Lobster and Crab, which always make for excellent eating.
If you decide to head offshore, you'll get the chance to hunt a few other pelagics besides the Mahi Mahi we mentioned. These include Tuna and the lightning-quick Wahoo. Much like Mahi, they're attracted by floating structure found offshore. This means every patch of seaweed you run into could present a unique spearfishing experience.
Best Spearfishing Spots in Miami
If you're wondering which particular spearfishing spots in Miami you can explore, we have you covered. There are over 80 different reefs and wrecks that lie sunken in the area around the city. We can't name them all but here are some you could visit:
Car Frame Reef: Located just off Virginia Key at a depth of 30 feet, Car Frame Reef is a great spot to catch some Lobster. Of course, there'll likely be some fish there as well, including Snapper, Hogfish, Grouper, and more. You can also explore the Neptune Memorial Reef just south of it.
Emerald Reef: This is Miami's largest natural reef. It lies near Key Biscayne, in waters around a mere 30 feet deep. This makes it suitable for all kinds of spearos. You can expect to catch Snapper and Barracuda, among other reef species.
The Pillars: If you're looking to hunt for some delicious Hogfish, this is the spot to visit. The Pillars consist of two steel beams and a pipeline and you'll find them just off North Beach Oceanside Park.
Pete's Reef: We already mentioned the Haulover area features a whole variety of diving sites. Pete's Reef is about 42 feet deep and provides a habitat for different types of Snapper, roaming Grouper, Hogfish, and more.
Army Tanks: With this wreck, it's all in the name. It consists of two sunken Vietnam-era tanks with limestone between them. They're a part of the Wreck Trek, which is an artificial reef located 10 minutes from Miami Beach. There's plenty of fish lurking around the tanks, but as they lie 50 feet deep in the water, they're more suited for spearos with at least intermediate experience.
What else should I know about spearfishing in Miami?
We've mentioned Goliath and Nassau Grouper as two species you can't target while spearfishing, but there are a few more. Inshore, these include the likes of Permit, Pompano, Tripletail, Tarpon, Snook, and Redfish, among others. Further from coast, you should avoid spearfishing for any type of Billfish or Shark. You can see the full list of prohibited species by visiting Florida's eRegulations page.
Also, before you're ready to head out, you'll need to get a saltwater fishing license. That is unless you're spearfishing accompanied by one of Miami's charter captains. Aboard a charter boat, a captain will cover you with their 6-pack license.
Finally, you should keep in mind it's prohibited to spearfish in freshwater and within 100 feet of public beaches and jetties. You also can't use things such as powerheads, bangsticks, or rebreathers while spearfishing.
Miami: The Wreckreational Diving Capital
With waters that stay warm year-round, Miami, together with Florida in general, is a prime destination to go spearfishing. The sheer diversity of spots makes these waters suitable for all levels of spearos, whether you're taking one of your first dives or you have many under your belt. There's always something new to discover in Miami, all you have to do is dive in.
Have you ever been spearfishing in Miami? What are the species you enjoy hunting the most? Let us know in the comments below!
The post Spearfishing in Miami: A Beginner's Guide appeared first on FishingBooker Blog.
By: Marko
Title: Spearfishing in Miami: A Beginner's Guide
Sourced From: fishingbooker.com/blog/spearfishing-in-miami/
Published Date: Fri, 15 Jul 2022 13:13:00 +0000
Did you miss our previous article…
https://www.hardcoregamefishing.com/giant-blue-marlin-fishing-from-isabela-island/