Reading Time: 9 minutes
Home to over 100 marinas and the largest yacht fleet in the world, Fort Lauderdale is all about living it up on the water. There are numerous ways to experience the "Venice of America." For anglers, party boat fishing in Fort Lauderdale is a sure-fire way to meet people, have fun, and reel in some prized catch.
Why hop on a party boat? Well, it's an affordable way to fish these waters for those going solo or in a small group. This part of Florida offers some of the finest angling on the East Coast. On a shared charter, you'll get to experience it in all its glory without stretching your budget.
So if you'd like to learn more about how all this works and what you can expect while party boat fishing in Fort Lauderdale, stick with us. We'll cover the species you can catch, when to go, and how to prepare for your trip. When you're ready, read on!
What to Expect When Fishing on a Party Boat
Party boats are designed to take big groups of people, whether on a fishing trip, a booze cruise, or any other kind of water activity. These boats are way bigger than your typical center console, averaging over 50 feet in length. Because of this, they're generally capable of taking anywhere from 20 to 50 anglers fishing.
Fishing trips on this type of boat are normally shared. This means you'll be booking a spot on the boat and sharing the adventure with other fellow anglers. If your group is large enough, you'll usually have the option to book out the whole vessel. However, this only pays off if you're planning a corporate outing or a similarly large event.
Aboard party boats, you can expect to find plenty of shade and seating. Most of the time, these vessels will feature plenty of amenities, including toilets, enclosed lounges, and even a bar where you can buy drinks and snacks. Also, you'll usually either be provided with the fishing gear, or you'll get the option to rent it on board.
Four and six hour fishing trips are the most popular options when it comes to party boat fishing in Fort Lauderdale. These will give you enough time to reel in some fish and have fun before moving on with your day. However, you'll also see some charters offering longer shared trips, which will give you more time to chase after offshore trophies.
What fish are biting in Fort Lauderdale?
Compared to most other places, party boat fishing trips in Fort Lauderdale are kind of unique. Why? Because you can encounter pelagic fish within a few miles offshore when it's their season. This means you don't necessarily have to hop on a long trip to get a taste of what it's like to fight some serious game. Of course, there's no shortage of food fish either. Have a look at what you could hook into while fishing these waters…
Snapper
Whether you're hopping on a party boat as a beginner or a seasoned angler, fishing for Snapper never gets old. There are several species of these fish lurking around Fort Lauderdale's reefs and wrecks. Among others, these include Vermillion, Mutton, Yellowtail, and the famed Red Snapper.
While Red is certainly the most prized type of Snapper, the truth is that all of them taste great.
So no matter which one you hook into, you can consider it a treat. You'll usually find Snapper fairly close to shore, although bigger specimens start showing up once you move a few miles offshore.
Grouper
With taste to rival our previous entry and a fighting disposition that's sure to get your adrenaline pumping, it's easy to see why anglers love Grouper so much. Like Snapper, there are multiple Grouper species you'll get to target while party boat fishing in Fort Lauderdale. Most often, these will be Red, Black, and Gag Grouper.
Occasionally, you might even hook into a Goliath Grouper. These underwater giants will offer you a battle for the ages, however, you'll most likely have to catch and release. No matter the species, Grouper like to hang out around underwater structure. Since all you need to do is drop the bait down to the bottom, even novice anglers can fish for them.
Mahi Mahi
This part of the East Coast is one of the few places out there where you can hook into pelagics on half day trips. Mahi Mahi is one such fish that you'll sometimes get to target while fishing aboard a Fort Lauderdale party boat. Granted, you won't see them every trip. But they often come within a couple of miles of shore during summertime, so you're likely to get your chance then.
Besides their unique looks, Mahi Mahi are also among the fastest-growing fish in the ocean. This means hooking into big ones – or "Gaffers", as they're known – isn't all that uncommon. You'll usually find Mahi Mahi around floating grass or debris which attract them. Another telltale sign captains often keep an eye out for is birds congregating above water.
The best part about fishing for Mahi Mahi is that, even though they can get big, they're still very beginner-friendly. The fight they put up is exciting but they'll generally get tired before you do. Also, let's not forget to mention that these fish make for excellent table fare no matter how you cook them.
Sailfish
Although you definitely can't consider Sailfish to be a common catch on party boats in Fort Lauderdale, it's certainly possible to reel one in! The reason why they make the list is because you can often encounter them within two or three miles of shore. This means there's no need to travel far, you just have to get on the water when they're passing through and get through.
Compared to the other fish we've mentioned so far, Sailfish are a whole different ball game in terms of difficulty. They're one of, if not the, fastest fish in the ocean, clocking speeds exceeding 65 mph. Sailfish also have the acrobatics to match their quickness, and will often jump out of the water during the fight and put on a brilliant show.
Since Sailfish are such tremendous fighters, they're a species more suitable for seasoned anglers to target. If you want to sharpen your skills before trying to catch one, we recommend going for smaller pelagic fish first.
And Many Others!
We've named two bottom fish and two pelagics so far but there are many other fish you'll see while party boat fishing in Fort Lauderdale. Along the different reefs and wrecks, you'll see species such as Amberjack, Barracuda, and Triggerfish, among others. If you see schools of Rays or Whale Sharks, you could also check if there are some Cobia following them.
As far as pelagics go, Blackfin Tuna and King Mackerel often swim a couple of miles offshore. This puts them in range of most party boats, giving you a chance to occasionally hook into some. So it's all about what's biting at the time of your trip.
When to Go Party Boat Fishing in Fort Lauderdale
This part of Florida's east coast is a year-round fishery. As long as the weather is good, you'll always be able to get out on the water and catch something. So if you're wondering when you should take that fishing trip, the most correct answer would probably be as soon as you can.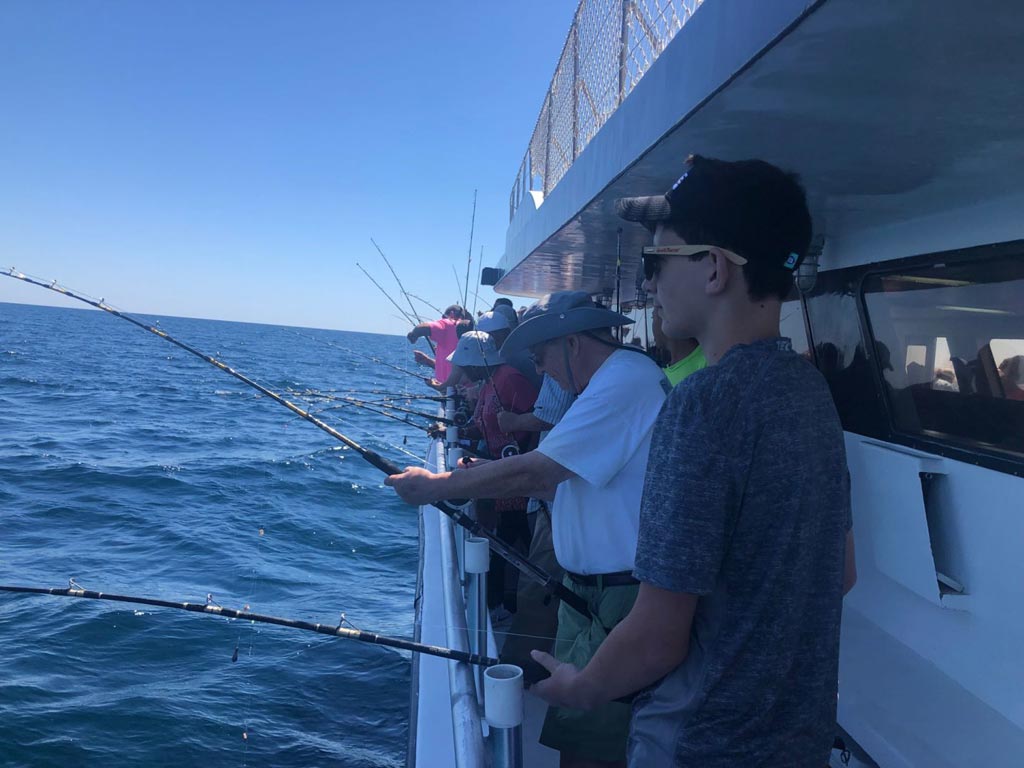 With this in mind, most species are subject to regulations, so your targets will vary over the course of a season. The Grouper season, for example, is closed between January and the end of April. However, winter and early spring are great if you're aiming to catch a Sailfish.
The peak season starts around May and lasts until the end of August. This is when you'll have the chance to reel in all kinds of bottom fish, as well as the likes of King Mackerel, Mahi Mahi, Tuna, and more. Summer is also when the Red Snapper season opens, making it the best time to visit if you're eager to put these fish in the cooler.
Of course, there'll still be plenty of deep-dwelling fish to reel in even after summer passes. You'll also see Mahi Mahi bite during fall. Finally, as the waters cool down and December rolls in, it'll be Sailfish season once again.
Types of Party Boat Trips in Fort Lauderdale
We've already mentioned that half day fishing charters are what most anglers go for when booking a trip aboard a party boat. These usually last for four hours, making them suitable for all kinds of anglers, beginner to pro. On half day trips, you'll often see families with kids, people learning how to fish, as well as tourists who want to get in on the local action on the boat with you.
Although half day trips may seem like the most basic option, there are various reefs, wrecks, and other spots close to Fort Lauderdale you can explore within four hours. Depending on what's biting you might be bottom or drift fishing for Grouper, Snapper, Triggerfish, and Grunt. Or, you could do some trolling for Spanish and King Mackerel, Mahi Mahi, and even the rare Tuna.
If you opt for a longer, 3/4 day trip, you'll just have more time to put fish in the cooler. Since you'll be spending up to six hours on the water, you'll have a better chance to see larger pelagics such as Wahoo and Sailfish. If not, you'll still get to target all the fish we mentioned in the previous paragraph.
Large party boats usually don't offer shared full day trips. They can be tough to fill and not everyone can handle being on the water for eight or more hours. However, there are some captains in Fort Lauderdale that offer such adventures aboard their yachts or center consoles. These shared trips are usually limited to small groups and will give you the opportunity to go offshore and target big game species such as Marlin, Swordfish, Sailfish, Wahoo, and more.
How to Prepare for a Party Boat Fishing Trip
Before you're ready to set out on your very own Fort Lauderdale party boat fishing trip, there are some things you should bring along. But since the boats already feature plenty of amenities, the list is pretty short. Take a look…
Sun protection. Even though there'll be shade on the boat, protecting yourself from the Florida sun should be one of your main priorities. Lotion sunscreen is preferable on boats compared to spray so make sure to apply some before the trip and bring the bottle along.
Comfortable clothing. Another great way to shield yourself from the sun is to wear a breathable, long-sleeved shirt. Pair that with some shorts, rubber-soled shoes, a hat, and a pair of polarized sunglasses, and you'll be set. It's also a good idea to bring an extra shirt, just in case things get messy and you need it.
Snacks and drinks. Keeping your energy up and staying hydrated is extremely important when you're fishing. So make sure to bring water or sports drinks and pack a few snacks to tie you over. Sometimes the boat might sell these, saving you the trouble of remembering to pack them.
Motion sickness medication. Since you won't be going very far offshore, seasickness is not a huge issue on Fort Lauderdale party boats. However, if you're not sure you can handle the open waters, it's still wise to take it. Remember, party boats normally won't turn around if someone gets seasick while you're on the water.
A small cooler and some cash. Once you're done reeling in all that fish, you'll need a cooler to transport it home. Also, there'll be a deckhand, or several, on board helping you throughout the trip. For their efforts, it's customary to leave a cash tip.
Party Boat Fishing in Fort Lauderdale: An Adventure That Fits the Budget
If you're looking to get a taste of what it's like to fish in Fort Lauderdale without breaking the bank, party boats are your ticket to reeling in all kinds of fish. Sharks, reef dwellers, or pelagics – whatever you choose to hunt, it's all within the realm of possibility out here. The potential these waters hold is almost unmatched, and the only missing ingredient for an adventure is you.
Have you ever fished aboard a party boat in Fort Lauderdale? Which fish species would you like to catch? Hit the comments below and let us know!
The post Party Boat Fishing in Fort Lauderdale: A Handy Guide appeared first on FishingBooker Blog.
By: Marko
Title: Party Boat Fishing in Fort Lauderdale: A Handy Guide
Sourced From: fishingbooker.com/blog/fort-lauderdale-party-boat-fishing/
Published Date: Fri, 29 Jul 2022 12:01:00 +0000
Did you miss our previous article…
https://www.hardcoregamefishing.com/8-top-spots-floridas-fall-snook-opener/