Reading Time: 10 minutes
Spring has sprung and the fishing season has kicked off. It's high time you got out on the water and in on the action. Well, what better time to do it than on a public holiday?! Memorial Day weekend and fishing pretty much go hand-in-hand all across this great country.
From paying your respects to those who gave their lives fighting for our freedom to fun-filled getaways enjoying nature, there are plenty of ways to make the most of this holiday. Whatever you feel like, there's always time to cast a line. And we're here to help you.
In this guide, we'll let you in on what we think are the best spots to go fishing this Memorial Day weekend. From historical waterfront locales to hidden gems, there's something for everyone. So without further ado, here's our pick for the best Memorial Day fishing getaways this year…
Westerly, RI
What better place to start our coast-to-coast list than in the "Ocean State?" Rhode Island may be small, but it punches well above its weight when it comes to fishing. And Westerly is a testament to that. Needless to say, this beachfront town gives you access to the Atlantic Ocean. But it also boasts some incredible saltwater pools, effectively acting as inland reefs, as well as freshwater fishing ponds and the Pawcatuck River, too.
If you thought that was cool, wait until you hear about the fish that call Westerly home. While the town mascot, the Westerly Salmon, is long gone, there's plenty of spawning Trout in the streams and ponds around town, making it a fly fishing hotspot. And the action only gets better in saltwater. Striped Bass – known locally as Rockfish – start hitting their peak season this time of year, with Tautog, Mackerel, Pollock, and Weakfish providing a solid supporting cast.
And after casting a line, there's plenty to explore downtown, too. Settled as far back as 1661, the town is steeped in history. Learn all about the nation's history in the well-preserved houses, churches, and other attractions such as inns, homesteads, and even a carousel. And just before you're ready to head home, you'll get to join in the Memorial Day festivities with Monday's parade. We told you Rhode Island punched above its weight!
Annapolis, MD
Further around the East Coast and the Chesapeake Bay, fishing really kicks into life come May. That makes Maryland's shores some of the most exciting angling spots this time of year. And that's only part of the reason why we selected Annapolis as worthy of a spot on our list this year.
We thought, "What better way to get in on the Memorial Day action than by being right in the heart of it?" Just 30 miles from Washington DC, visiting Annapolis gives you the option to explore the capital on this important holiday and take in the famous parade. Not only that, it's just a short drive further to the National Cemetary in Arlington, VA. If you're looking to get into the real spirit of Memorial Day, this is the place to be.
Speaking of parades, Annapolis has its own, and the city website makes a point of telling people to arrive on Monday at 10 a.m. "sharp!" You'll want to get up on time, then, after enjoying a weekend of fishing the Chesapeake Bay. Much like in Westerly, it's Rockfish that will steal the limelight here, too. However, Flounder, Tautog, and Spotted Seatrout also star in the bay, with Black Seabass offering up a tasty treat further out. With peak season just around the corner, you may even run into an early Cobia or Bluefish, too. Not bad, eh?
Dinwiddie County, VA
Staying in the east but heading inland, the next spot on our list also has a focus on history. The "Mother of States" is second to none when it comes to learning about the origins of this country. But Dinwiddie County is a bit off the beaten track. Just south of Petersburg and Richmond, this small, yet charming place cherishes its past and is a great place to kick back and relax while also remembering all those that went before us.
Pay a visit to the Pamplin Historical Park – a real feast of living history, telling tales through museums, homes, and battle sites. But it's not all about learning. Brown Racing's Memorial Day Weekend Showdown in the famous Virginia Motorsports Park provides thrilling action for visitors of all ages, before you settle back into peaceful nature at Lake Chesedin.
And that's where the fishing comes in. Not only is this body of water surrounded by camping grounds, it's also full of outdoor recreation activities – fishing being number one! This is prime Bass and Crappie country, and the action really gets going in spring. The recent stocking of Walleye and Striped Bass means there's something for everyone. With bait stores, boat rental stores, and accommodation options all around, you know this is the place to be.
Johnson City, TN
Due southwest of Dinwiddie, just across the state border lies an entirely different world. You'll be greeted with open arms thanks to that famous southern hospitality in Tennessee, and the nature that surrounds Johnson City, TN, is the cherry on the cake. Located at the entrance to Buffalo Mountain Park and Winged Deer Park, Johnson City is your gateway to nature. But that's not all. The town center provides something for everyone, too.
You may have guessed there's a theme to some of these spots so far. Well, Johnson City is another locale steeped in history. The first permanent settlement outside the colonies, it's also the birthplace of Davy Crockett, so you know you're already onto a winner. The town also claims to be the home of country music, so get ready for an attack on the senses in this magical place.
But there's one thing we've forgotten. The fishing, of course. Continuing with our attempt to cater to everyone, Johnson City is another spot that will suit all angling appetites. Boone Lake is the closest body of water to downtown, offering up Smallmouth, Largemouth, Striped, and Hybrid Striped Bass, along with Catfish and Crappie. The Nolichucky River holds some Bass and Musky, too, while Trout anglers will enjoy the mountainous streams of the South Holston River. Diversity doesn't even cover it!
Kentucky Wildlands, KT
If you've been hooked by the Trout we mentioned above (pun intended), then you'll love our next spot. More of an area than an actual spot, the Kentucky Wildlands span more than 14,000 square miles over 41 counties, offering up plenty of pristine Trout waters. Prized, oversized Brown and Rainbow varieties are stocked in their hundreds of thousands in Hatchery Creek, with the Cumberland River also proving productive – especially in spring.
Bear in mind that there are different regulations depending on where you're fishing, so read up before you visit. Or, head out with a guide and let them take care of the hard work! You can focus on what really matters – fishing! And it's not just Trout you can find in the Wildlands. Bass anglers can hit the Laurel River Lake. This pristine body of water is one of the clearest in the state, with Crappie and Bluegill showing up to give the little ones something to target, too.
This area is a place to unwind and get away from it all. You'll get to focus on fishing in stunning nature this Memorial Day weekend. We suggest checking out Lake Cumberland – also known as the "Houseboat Capital of the World" – where wakeboarding, jet-skiing, and other water sports opportunities are abundant. It may be a little cold for swimming, but don some wetsuits and you can even go SCUBA diving! You'll be in another world, almost literally, in the Kentucky Wetlands.
Cedar Key, FL
We'll keep heading south to reach the next spot on our list of Memorial Day fishing spots for 2023. Of course, we couldn't leave the Sunshine State out of pretty much any list of angling destinations. This year, we've opted for Cedar Key to represent Florida. If you're looking for good weather, beautiful nature, and incredible fishing, look no further than this Gulf Coast haven. With warm fronts coming in this time of year, the angling opportunities heat up in the saltwater realm.
Along with the ubiquitous Redfish and Seatrout that patrol the inshore waterways around the Gulf, Spanish Mackerel swim by this time of year, too. This means you'll have the option to switch it up between sight casting and trolling. Sheepshead promise a tasty treat, too, while Snook and Tarpon will keep even the most experienced angler on their toes. Wade in the flats, head out with a guide, or pick up a kayak and head out DIY-style. The choice is yours.
And when you're done fishing? Kick back and eat your catch, of course. You'll have deserved it, after all. We suggest renting a waterfront condo and cooking it up yourself. But, if you're feeling really hedonistic, a local restaurant will be happy to serve you up your own catch of the day. Much like Kentucky, it's all about relaxing and enjoying nature in Cedar Key. Explore the wetlands and numerous islands that make up Florida's "Other Keys." We promise it's worth it.
Decorah, IA
It's time to head up north for our next suggestion on where to visit this Memorial Day weekend. But we're also back to Trout fishing territory with this spot. Decorah, in Winneshiek County, Iowa, offers untouched nature and pristine Trout streams for a getaway to remember. Memorial Day comes right in the heart of stocking season, too, so you'll find plenty of eager Brook, Brown, and Rainbow Trout. After all, 76,000 of the creatures will be introduced over the course of the season.
This is the famous "driftless" area, a topological phenomenon caused by the fact that the ice age never touched this part of the planet. Pretty cool, huh? Wait until you see what that meant for the nature here! You'll feel like you've been transported to the Great Lakes rather than being in the Midwest. Steep hills, pierced by bike and hiking trails offer plenty for lovers of the outdoors. Meanwhile, the town itself offers plenty to enjoy over the holiday.
Monday's parade is not to be missed, but you'll already be in love with the place before that comes around. Coffee shops, breweries, wineries… you name it, Decorah has it. It's a relatively undiscovered town, which means that it's still full of charm. There are plenty of museums and other attractions to explore, giving you and the whole family plenty to sink your teeth into.
Flaming Gorge Reservoir, WY/UT
Can't get enough of Trout? Of course you can't. That's what spring fishing is all about. Well, the Flaming Gorge Reservoir, straddling the Wyoming–Utah border has them in abundance! Utah's state record Lake Trout was even caught here, which speaks volumes about quite how good the fishing is here.
And there's more where that came from. The largest lake in Wyoming, it boasts healthy populations of Rainbow and Brown Trout, too, along with Smallmouth Bass and Kokanee Salmon. With such diversity when it comes to fish species, it's no wonder that anglers from all over the country love to come here. We think you should visit, too!
But why visit now? Well, activities for tourists really start getting going come spring. In fact, Memorial Day weekend is usually the season opener for the Red Canyon Visitor Center, which offers vantage points and incredible views of this impressive lake. With good weather all but guaranteed, you can also take advantage of kayaking and canoeing. Or go hiking and see if you can spot anything from sheep to elk, to antelopes!
Redding, CA
Across to the Golden State, now, and there's no city that embodies that nickname more than Redding. The sunniest city in the whole of California, Redding boasts 300 days of sun every year. Therefore, the odds are in your favor if you choose this as your Memorial Day weekend destination this year.
Onto the fishing, and, as we're talking about an inland location, you've probably already guessed what's on the menu. Yes, Trout. One of the only West Coast cities to be featured in Forbes's best Trout fishing towns (back in 2011), Redding truly stands out in California as a place to get your fish on. The Lower Sacramento River is a prime hunting ground, while the Trinity River also boasts Steelhead and Brown Trout, too. Not enough? Coho and Chinook Salmon can also show up, providing a real angling bonanza!
Other than coming at the heart of Trout season, there's another reason for visiting Redding this Memorial Day weekend. As with some of the other places we've already mentioned, this town's tourist season kicks off around this time of year. Hit up "The Park" where pop-up food vendors, a bowling lane, corn holes, a fire pit, and plenty of family-fun activities will keep everyone happy. And that's on top of the Turtle Bay Exploration Park and charming downtown. What's not to like?!
Olympia, WA
We'll wrap up our tour of the country in the Pacific Northwest. This corner of the US is known for its fishing, and rightly so. Casting a line here is a way of life, and even Olympia, Washington's state capital, retains its small-town vibe where fishing dominates pretty much everything.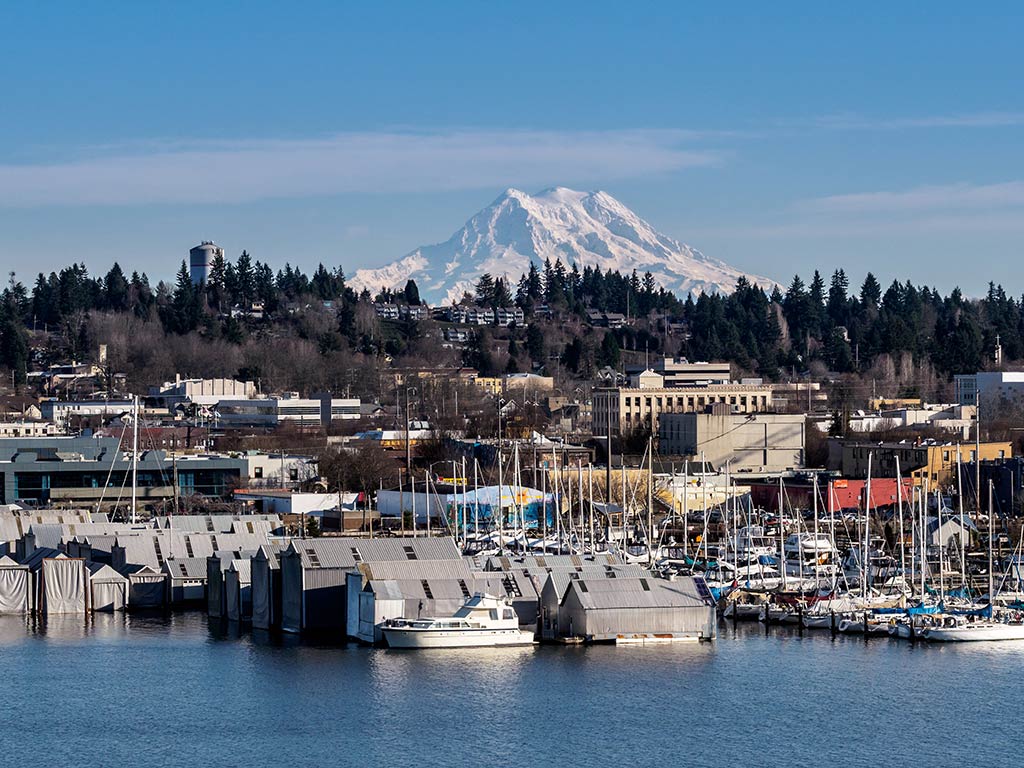 The waters south of the Tacoma Narrows Bridge are the only place where it's legal to keep Salmon year-round, which is good news if you're coming to Olympia! Especially as there will be three species of Salmon visiting this year! The ​​Nisqually River is a great spot for beginners, while pretty much any creek is good value for anyone who has experience with a rod and reel.
If you're looking for diversity, Steelhead and Cutthroat Trout are available in some rivers and streams, with Bass, Perch, Catfish, and more possible in local ponds. With Flounder on offer in saltwater, you're all but guaranteed a tasty treat. And if the fishing wasn't enough to wear you out, Memorial Day weekend sees the 1M, 5K, and 10K Races take place. Attempt a different kind of PB or simply give it a go and help out this year's worthy cause.
Memorial Day Fishing: An American Tradition
By now you should have realized that going fishing this Memorial Day weekend is a must. Hopefully, our list has given you some inspiration on where to go. But there are plenty more spots you could consider – check out our list from 2022! All in all, if the weather is good this year, pretty much any body of water across the country will let you join in this noble tradition. Get out there!
Now we'd like to hear from you. Have you got any fishing plans this Memorial Day weekend? Anywhere you think we should have mentioned? Let us know in the comments below!
The post Best Memorial Day Fishing Destinations 2023 appeared first on FishingBooker Blog.
By: Rhys
Title: Best Memorial Day Fishing Destinations 2023
Sourced From: fishingbooker.com/blog/memorial-day-fishing/
Published Date: Mon, 24 Apr 2023 14:45:37 +0000