Reading Time: 9 minutes
Fishing for Snook is a way of life in Florida. This species is one of the all-time favorites of inshore anglers, and it only makes sense, considering what they have to offer. Snook are outstanding fighters and they're delicious, which is a winning combo in any game fish. These qualities mean that they get targeted a lot. But to leverage that, there are two yearly closures to ensure their population stays strong. While closures are necessary, Snook season openers are a reason to rejoice – and now, one is upon us.
The Snook season will reopen on September 1, and it's a big deal for Floridians. Up until then, these tropical beauties are strictly catch and release. But, after the season opens, anglers are allowed to keep one per day! This means you get to keep your trophy catch and turn it into a tasty dinner. No wonder the Snook opener is practically considered a public holiday.
So where do you go to catch yourself a nice Snook? Keep reading and we'll share some of the most productive Snook fisheries to explore.
Best Fishing Spots for This Fall's Snook Opener
Port Canaveral
We'll start our tour on the Space Coast. Port Canaveral is a known fishing hub, and Snook is one of the leading catches, here. The main reasons for this are the sheer variety of places where you can target them, as well as the size the fish reach in these waters. The proximity of the prolific Sebastian Inlet doesn't hurt either.
As September rolls around, you'll see Snook chasers all over Port Canaveral and further south, around the inlet. The reason is that the fish come closer to the shore, so they're even more accessible. You can go after them right from the beach, which is one of the main upsides that draws anglers in. There's also a lot of Snook in and around the Indian River, so not only have you got a chance of landing a big one, but you can also take your pick of fishing grounds.
Port Canaveral is easy on the eyes. Whether you come for the stunning beaches or you'd like to explore NASA's hometown, you're in the right place. Hang out with manatees in their sanctuary, then spend the afternoon surfing. If you're a bird lover, don't miss the Pelican Island National Wildlife Refuge. Mix in warm late summer days, lounging on the beach, soaking in the sunset, and you've got yourself a vacation.
Vero Beach
In our exploration of the best spots for the fall Snook opener in Florida, we move further down the east coast to Vero Beach. If you're looking for a place where you can be laid back and add some good fishing into the mix, this is it. There are many fish to catch here, but Snook is a summer and fall favorite.
What makes Vero Beach one of the best Snook fishing spots this time of year? For starters, early fall is the best time to go after Snook in these parts. As bait fish comes closer to land, the big fish religiously follow their food, which is exactly what you want. Then you've got the Chamber Canal, which boasts excellent action, especially for trophy fish lovers. Of course, the Indian River lagoon is always at your disposal. You can also explore the many jetties that serve as Snook congregation spots and even go kayak fishing around the mangroves.
The appeal of Vero Beach lies in the fact that your stay here can be as active as you'd like. You can get some sunshine on one of the beaches and combine it with Snook beach fishing. After that, you can visit local museums or head to the nearby chocolate factory with your family. Outdoor enthusiasts will love the Archie Carr National Wildlife Refuge, while Jaycee Park is the perfect place for a picnic at the end of another relaxing day in Vero Beach.
Jupiter
We're not talking about going to another planet to find good fishing. Jupiter is a beautiful beachfront town on the Treasure Coast that offers a lot of strong Snook action. Come in time for the Snook opener and you'll see firsthand just how much of a fighter these tackle-busters can be.
Jupiter Inlet is the main reason Snook love to hang around the town. The place where the Loxahatchee River meets the ocean is a fishing epicenter. Big Snook come here to feed and spawn, and they stick around all through the summer and the fall. There's even a "Jupiter rig" specially made for Snook fishing, that's how good the action is. Night fishing is particularly strong because Snook are ambush predators. They get more reckless under the cover of darkness and they'll attack your setup with wild abandon.
When you've had your share of fun on the water, Jupiter has a variety of activities for you to try. This is a great family vacation spot for people who love animals and nature. In the Loggerhead Marinelife Center, you can check out the aquarium and hang out with sea turtles. Beaches are always at your disposal, and thrill seekers can even go swimming with Sharks. Whatever your taste for adventure is, chances are, Jupiter can accommodate.
Dania Beach
As we travel further south, we can't sidestep Dania Beach – aka Broward County's First City. Dania Beach is one of the hidden gems on our list of best spots for the fall Snook opener, and the fishing potential here is off the charts.
If you prefer to fish from land and don't want to hassle with boats, Dania Beach will meet your angling needs. The local fishing pier is 900 feet long, jutting into the ocean, and ideally situated for memorable fishing moments. Here, feisty Snook venture into shallow waters looking for food. This makes them easier to spot and target from the pier, especially in the fall months. You might be surrounded by fellow anglers, but don't worry, on Dania Beach Pier, there's plenty of Snook for everyone.
While this sunny locale can often fall under the radar, Dania Beach is well worth your attention. Its beaches are clean, accessible, and simply beautiful – so much so that they've been awarded for it. You can easily spend a day in the Secret Woods Nature Center, walking trails and drinking in nature in all its splendor. Antique lovers will get lost in the Antique and Arts District, and you can round up the day with a beer tasting in a nearby brewing company.
The Everglades
There's no talking about the Florida Snook opener without mentioning the Everglades. Now, we know that Everglades is huge and it would take years to explore it all, but don't let that overwhelm you. You can access the park's rich waters from different sides (Naples, the Keys, Islamorada, Everglades City…) and you better believe it will be worth the trip.
The Everglades is probably the best spot in the Sunshine State to look for monster Snook (also called Leviathan Snook). Since this is a tropical species, the park's ecosystem and water temperature are the perfect home for Snook year-round. Some of the best fishing grounds to check out in the fall are Whitewater Bay and Ten Thousand Islands. These wetlands and mangrove-stacked shorelines are teeming with Snook of all sizes. You can go fishing with a guide or set out on your own with a kayak, it's up to you.
If you're craving some peace and quiet that can only be found in nature, the Everglades is the destination for you. No matter how much time you have, there's something for you to discover and admire. You can spend days hiking trails like Gator Hook Trail or bike through the Shark Valley. Stargazers should venture into the Big Cypress National Preserve from where you can see the most beautiful night skies.
Sanibel
We're now officially moving to Florida's Gulf Coast, and Sanibel is our first stop. Located on its namesake island, Sanibel offers great access to a variety of Snook fishing grounds. This is the main reason it's on our list of the best spots for the fall Snook opener. The fish you get here might not be the biggest on record, but that's ok. What Sanibel Snook sometimes lack in size, they make up for in numbers.
Sanibel has over 20 miles of gorgeous coast rimmed with mangroves and grassy flats – the perfect Snook habitat. This is where young fish come to eat and grow, and where fishing flourishes pretty much year-round. With the coming of the fall, the inshore waters become clearer, and you can chase Snook around mangroves, flats, and passes. Backcountry fishing is the name of the game as temperatures drop, and the game is good.
From what you've read, you can probably guess that Sanibel is almost like an oasis. This is a small island away from the everyday bustle, where you can take a beat and enjoy yourself. There's no need to rush. Take things at your own pace – Sanibel is good like that. Walk around the Botanical Gardens, hike the Bailey Tract, or make the most of your afternoon sun-gazing and collecting shells on Blind Pass Beach.
Gasparilla Island
For a lot of people, Gasparilla Island might be synonymous with the Boca Grande and incredible Tarpon fishing. While that's absolutely true, Snook have earned their place on the must-catch list of local and visiting fishermen. This barrier island is surrounded by fantastic fishing waters and the Snook here aren't shy. They'll fight you stubbornly for every inch of your line!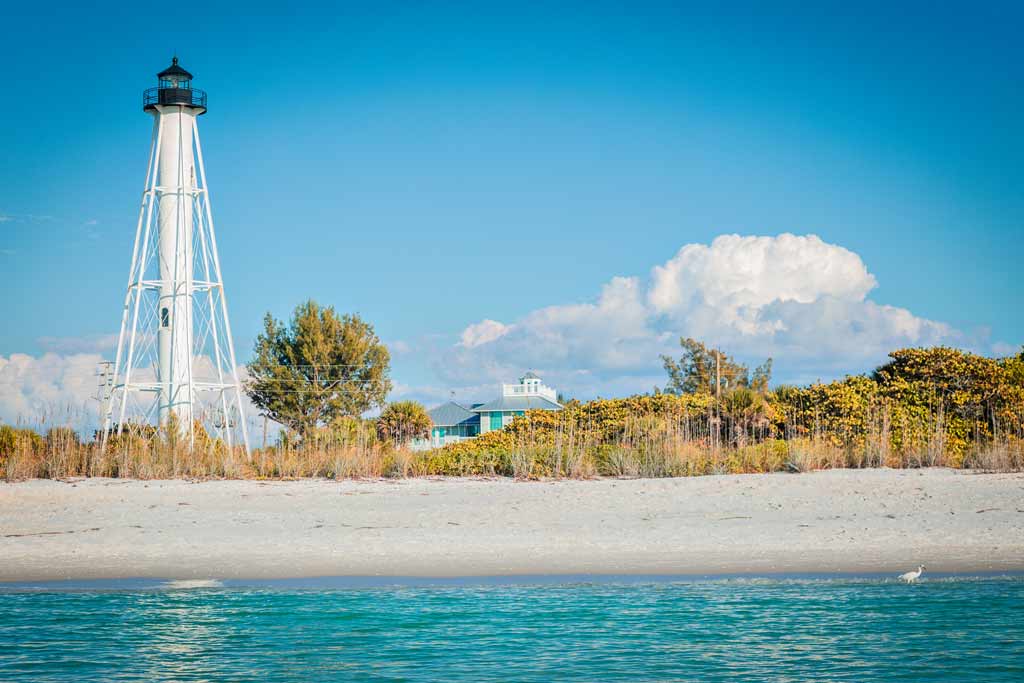 So where do you go to find Snook? Well, you can't really go wrong. Gasparilla Sound is a good starting point because a lot of mid-sized and big fish congregate around the channels. Gasparilla Pass is just as good – a lot of Snook come through here in the fall on their way back to the shallow waters. And the Boca Grande Pass is just as productive. Finally, surf fishing for Snook is a treat. The bite is almost constant around underwater structures and when there's a lot of bait fish in the surf.
As for things you can do around Gasparilla Island, well, the sky's the limit. You can spend your days on the beach and check out the many shops in Boca Grande. For a more active vacation, try your hand at water sports like kayaking and paddle boarding. You can also visit the Cayo Costa State Park, which is small, secluded, and as close to paradise as you can imagine.
Venice
When a city is located next to a "Snook Alley," you don't need to think hard about what you should target. Venice is the final stop on our list, but that doesn't make it any less important. On the contrary, the waters of Venice Inlet are among the favorite playgrounds for Snook and anglers alike.
There's no better place to go after Venice Snook than the famous Snook Alley. Huge numbers of these fight-ready fish live along this section of the Intracoastal Waterway. The action is on every day of the year, and night fishing is some of the best you'll find in Florida. Having a Snook do their acrobatics while you try to land them in the dark is a special kind of adventure. Fly fishing can also give excellent results if you're into trying something new.
When you're not battling Snook, Venice will provide you with everything you need for an enjoyable vacation. Lose yourself in the beauty and architecture of the city's downtown or stroll down the fishing pier against a fabulous sunset. Take some time and go to the lovely Caspersen Beach or dedicate a day to hiking in the Oscar Scherer State Park. If you're up for exploring nearby cities, Tampa and Sarasota are just a stone's throw away.
Florida Snook Opener – Exciting Times Ahead!
The Snook opener is upon us and, while there are many many great destinations to target them in the Sunshine State, these eight are the best of the best. All that's left to do is pick your favorite spot, get your gear at the ready, and hit the water for battle. Happy Snooking!
What do you think about our choice of spots? Did we miss something? Do you have a favorite that's maybe not on the list? Let us know in the comments below.
The post 8 Top Spots for Florida's Fall Snook Opener appeared first on FishingBooker Blog.
By: Andriana
Title: 8 Top Spots for Florida's Fall Snook Opener
Sourced From: fishingbooker.com/blog/fall-snook-opener-florida/
Published Date: Thu, 28 Jul 2022 13:35:00 +0000
Did you miss our previous article…
https://www.hardcoregamefishing.com/how-to-store-your-boat-a-complete-guide/